This pretty Lena Liu porcelain hummingbird accent lamp: Radiant Gardens
would make a really nice Valentine's Day gift for a hummingbird lover. Would be great for anyone who likes to garden, somebody who collects porcelain floral works of art or even just a person who appreciates beautiful things.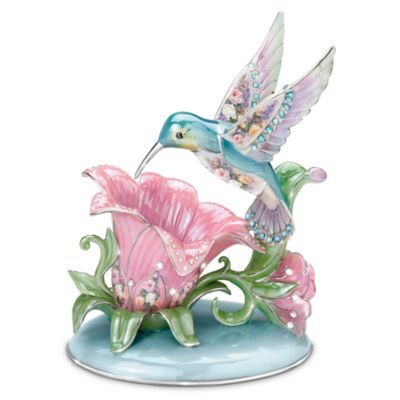 Lena Liu Porcelain Hummingbird Accent Lamp: Radiant Gardens

Exclusive, limited edition hummingbird hovering over a flower blossom lamp is handcrafted of Heirloom Porcelain®. Is enhanced with custom pearlescent toned paints of blue, green pink and purple. Has 130 simulated jewels and bands of platinum. Light radiates from a hidden bulb inside which is free with purchase. Measures 8 inches high. No two of these are alike.
In case you didn't see it in a previous post we had another great Valentine's Day gift idea. They're a pair of Lena Liu sterling silver hummingbird earrings