This Lena Liu hummingbird bracelet would make a really nice Christmas gift for anyone who likes hummingbirds. Personally I think it's a beautiful piece of jewelry that anyone would love to see on their wrist but especially anyone who likes hummingbirds.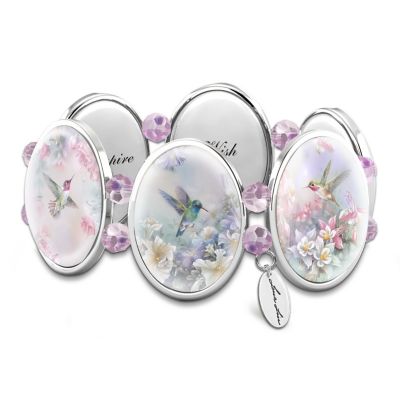 Lena Liu Bracelet: Wings Of Enchantment

Handcrafted and plated in sterling silver, this Lena Liu stretch bracelet features six hummingbird paintings recreated on individual oval tableaus that resemble framed portraits. Each is done in beautiful lavender, pink, blue, green and yellow pastel colors. The back of each is engraved with the words "Hope", "Dream", "Believe", "Inspire", "Wish" and "Imagine". Lavender crystal beads separate each tableau with her signature silver-plated oval charm dangling from the bracelet. Certificate of Authenticity in included.