First, let me say that we live in the suburbs of Philadelphia, Pennsylvania so we usually only attract Ruby-throat hummingbirds. We start by putting out our first feeder(s) around April 15th and usually see our first visitors in about 2 or 3 weeks. We use dish type feeders for a couple of reasons, one because they are easy to clean and refill, two there is no bottle to block your view in case a hummingbird lands on the side you can't see. It is extremely important to keep your feeders clean and fresh. We clean and refill ours every 3 to 4 days and if it is real hot maybe sooner. We fill our feeders with a mixture of one part sugar and four parts water with no coloring. Some people boil the water but we do not. We clean our feeders with a sponge, vinegar and warm water.
As for plants we have tried many and have had a few that work better for us than others.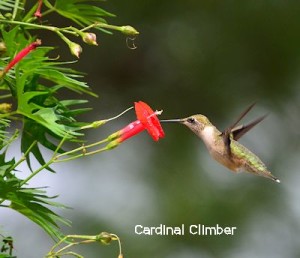 Salvia – black and blue seems to be our best with the Cardinal Climber a close second. We also have had good success with Lobelia Cardinalis ( Queen Victoria ) and a yellow honeysuckle called John Clayton. The lobelia needs a lot of water and honeysuckle can have aphid problems. So for now our best bet would be the Salvia – black and blue and the Cardinal Climber. The salvia we have in a container on our deck and also in our flower bed. The Cardinal Climber we grow from seed in a large container with a trellis.
Last year we also tried Agastache – Tuti Fruti and Salvia – Wendy's Wish. They both worked pretty well. We found out if you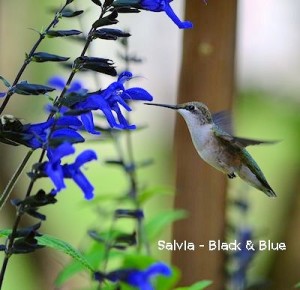 keep your feeders clean, full and give the hummingbirds some good plants to feed from they will come back year after year. This coming season we're thinking of trying Cuphea ignea – cigar plant for the first time because we have read it's a good hummingbird attracting plant.
Just like clock work, the first or second week of September our hummingbirds leave. We keep our feeders up for a couple of weeks and there are still plants blooming for the hummingbirds migrating through.
A couple other thoughts we have are if you are sitting outside watching your hummingbirds the least amount of movement will help them get used to you being there. Also, if you put up more than one feeder they should not be within eye sight of each other. The reason for this is because this type of hummingbird is very territorial and they spent a lot of time chasing each other away from the feeders.